| | |
| --- | --- |
| Show Date: | Saturday, February 18, 2017 |
| Show Start Time: | 2:00pm |
| Approximate Show End Time: | 4:35pm |
| Rating: | Children under 10 must be accompanied by an adult. |
| Cartoon: | Yes |
| Door Prizes: | Yes |
| In 3D: | Yes |
| Fundraising For: | Family Movie Trust Fund |
Admission Prices
This show has already passed.
Theatre Information
Ottawa Family Cinema is located at Notre Dame Auditorium, 710 Broadview Avenue, Ottawa, Ontario.
For more information, please call 613-722-8218 or e-mail info@familycinema.ca.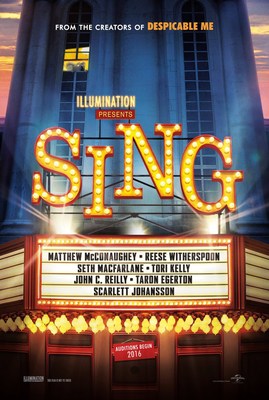 From the makers of Despicable Me........ Auditions begin 2017

Synopsis:
Set in a world like ours but entirely inhabited by animals, Buster Moon a dapper koala who presides over a once-grand theater that has fallen on hard times. Buster is an eternal-some might even say delusional-optimist who loves his theater above all and will do anything to preserve it. Now faced with the crumbling of his life's ambition, he has one final chance to restore his fading jewel to its former glory by producing the world's greatest singing competition.




3D Information for Sing

Presented in Dolby 3D

3D Information



Movie Preview

Calendar