| | |
| --- | --- |
| Show Date: | Friday, March 24, 2017 |
| Show Start Time: | 7:00pm |
| Approximate Show End Time: | 9:25pm |
| Rating: | Children under 10 must be accompanied by an adult. |
| Cartoon: | No |
| Door Prizes: | Yes |
| In 3D: | No |
Admission Prices
This show has already passed.
Theatre Information
Ottawa Family Cinema is located at Notre Dame Auditorium, 710 Broadview Avenue, Ottawa, Ontario.
For more information, please call 613-722-8218 or e-mail info@familycinema.ca.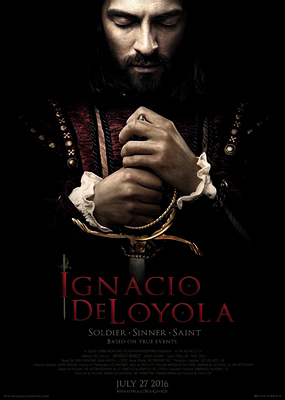 Special Presentation First showing in Ottawa! A Powerful experience!

Synopsis:
'If you could hear the voice of God, would you want to keep it secret?' A historical drama based on the memoirs of St. Ignatius of Loyola, founder of the Jesuit order. This is the story of a soldier, a man of vice and violence who, in his attempt to turn to the light, was forced to wrestle with his inner demons to the very brink of death. A Filipino production shot in Spain and the Philippines, the film chronicles his valiant but futile defense at the Battle of Pamplona, his struggles with depression and near-suicide, his trial before the Inquisition, and his ultimate vindication.

Information about this special show:
A Brilliant new motion picture experience following the true life story of Saint Ignatius founder of the Jesuit order. Not to be missed on the big screen!
Book your tickets now!







Movie Preview for Ignatius of Loyola
Movie Preview

Calendar for Ignatius of Loyola
Calendar