| | |
| --- | --- |
| Show Date: | Friday, March 3, 2017 |
| Show Start Time: | 7:00pm |
| Approximate Show End Time: | 9:40pm |
| Rating: | Children under 10 must be accompanied by an adult. |
| Cartoon: | Yes |
| Door Prizes: | Yes |
| In 3D: | No |
| Fundraising For: | OFCF |
Admission Prices
Ticket Type
Price
Member
in advance

$6*

Member
at the door

$8*

Non-member
in advance

$8*

Non-member
at the door

$10*
Notes
Theatre Information
Ottawa Family Cinema is located at Notre Dame Auditorium, 710 Broadview Avenue, Ottawa, Ontario.
For more information, please call 613-722-8218 or e-mail info@familycinema.ca.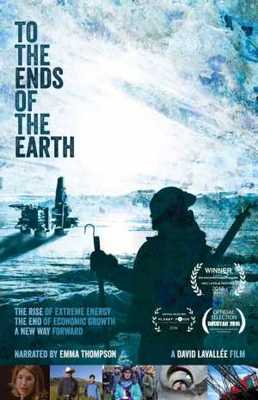 A Special Event to help save our Earth. A must See! First showing in Ottawa

Synopsis:
Screening of the brilliant new award-winning documentary that examines the state of our energy system and features concerned citizens living at the frontiers of extreme oil and gas extraction. Director David LaVallee will be in attendance for a Q&A session. The rise of extreme energy, the end of economic growth, the people caught in the middle. " To the Ends of the Earth " is a feature documentary about the state of our energy system today, and the people we meet are uniquely positioned to watch this global crossroads unfold. For example, the mayor of an Inuit village in Canada's high Arctic who is concerned that seismic testing for oil in the ocean is blowing up the eardrums of the animals that the Inuit hunt to survive. Or the environmental lawyer who goes on a journey to areas that produce energy for the Tarsands of Alberta – he learns of the inputs of energy that have to be put into this resource - and the reasons why the second largest oil project in the world is economically unsustainable. Or the river conservationist in Utah who fights to protect the Colorado River from oil shale projects that would disturb its headwaters. ' To the Ends of the Earth' brings forward the voices of those who not only denounce the rise of extreme energy, but also envision the new world that is taking shape in its stead: a future beyond the resource pyramid, a post-growth economy

Information about this special show:
The movie's producer will be at the screening for a personal on stage Q & A session after the screening.






Buy Tickets for To The Ends of The Earth
Buy Tickets

Movie Preview for To The Ends of The Earth
Movie Preview

Calendar for To The Ends of The Earth
Calendar